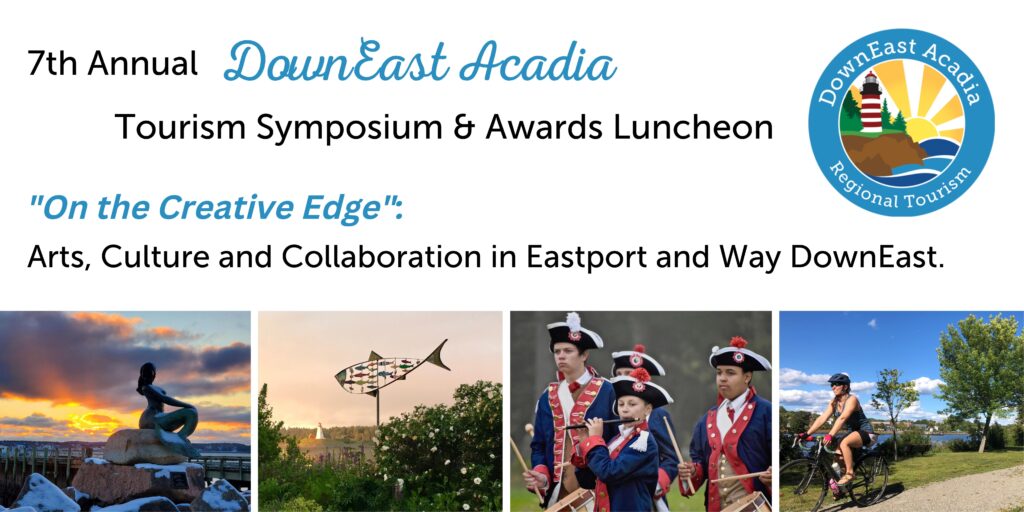 October 13th, 9am to 2pm at the Eastport Arts Center, 
36 Washington Street, Eastport.
Special activities and community tours will occur the day before, October 12th – we hope you will join us in exploring Way DownEast Maine!
The event is open to the public, and everyone is welcome and encouraged to attend.
Lunch will be served at 12:30pm, and morning coffee and snacks at 9:00am.  $25.00 cost to attend.
The Symposium provides opportunities for people in the travel and tourism industry to network with other professionals and communities, share news and ideas, and celebrate the region's tourism movers and shakers.
The Symposium is held in a different part of the region each year, and focuses on a different theme. We partner with businesses, organizations, and municipalities to highlight the diverse resources and communities that together create the DownEast Acadia experience.
Past Symposium themes include:
3rd Annual (2017) – Downtown Revitalization & Entrepreneurship – Bucksport
4th Annual (2018) – Balsam, Wild Blueberries, and Bicycling – Machias Bay Area
5th Annual (2019) – Traditional Industries, History & Art – Blue Hill Peninsula
6th Annual (2020) – Outdoor Recreation – held via Zoom due to Covid 19
VIEW OR LISTEN TO THE 2020 6TH ANNUAL SYMPOSIUM HERE.